Our Luxury Charter Bus Fleet Features Top-of-the-Line Vehicles
Easton Coach Company's luxury charter bus fleet features top-of-the-line vehicles from Van Hool, Prevost, MCI, and BCI, expertly designed for safe, reliable, and comfortable motorcoach travel.
Easton Coach Company motorcoaches ride in style with comfortable seating for up to 57 people. Select motorcoaches feature luxurious amenities, such as leather interiors and hardwood flooring. Easton Coach Company's motorcoach fleet is also outfitted with a host of modern amenities for maximum passenger comfort, including: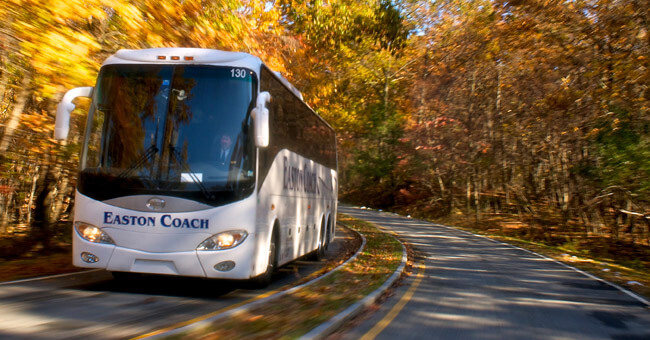 To make specific requests regarding vehicle amenities, or for more information on our motorcoach fleet, please contact Easton Coach Company's motorcoach sales department at 1-800-WE-BUS-4-U (1-800-932-8748) x3, e-mail us or click here to submit your questions through our website.
Incredibly convenient for multi-day trips, Easton Coach Company motorcoaches offer generous luggage space beneath the buses, as well as overhead storage compartments inside the motorcoaches.
Kneeling suspension features make for safe and easy boarding. Our motorcoach fleet also includes a fully handicapped-accessible motorcoach complete with a wheelchair lift and flexible seating arrangements to accommodate our passengers with special needs.
Select motorcoaches feature seatbelts for added passenger safety, plus state-of-the-art safety technology including DriveCam and GPS systems for on-road vehicle tracking.
We invite you to take a look at our motorcoach fleet, inside and out: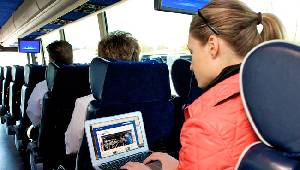 Select Motorcoaches Feature Complimentary WiFi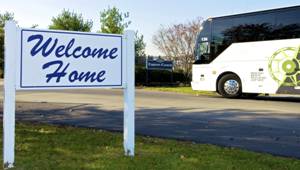 Luxury Motorcoach Arriving Home to Our Lehigh Valley Headquarters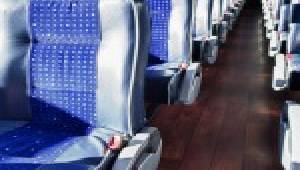 Every Motorcoach Purchased Since 2006 Features Seat Belts